How to restore a WordPress back-up to staging
It is incredibly crucial to have a reliable back-up of your WordPress site if you do not intend to lose all your online work someday. Investment in this direction always proves to be worthy of insurance eventually. Once a back-up is made, you can quickly restore your WordPress site from such back-up and push it to staging. This makes work more comfortable in several ways:
A smoother development experience enabling a preview of prior site operation without tampering with your live site.

Enabling the retrieval of information from the previous back-up without modifying your live site.
CHOOSING A WORDPRESS BACK-UP PLUGIN 
It is easier to manage WordPress back-ups using back-up plugins than doing it manually. Considering there is a handful of WordPress back-up plugins readily available, it can pose a challenging task to select an appropriate one that rightly fits your requirements.
BACK-UP METHODS
WordPress back-up methods using plugins is categorized into three primary techniques:
Database back up: These plugins enable you to back-up only the contents of your database (back end).

Full back up: These plugins will allow you to back up the entire content of your website, including databases and external files.

Set up back-up: With this option set, individual plugins take control of your whole back-up plan by scheduling automatic back-ups of website content periodically.
RESTORE WORDPRESS BACK-UP FROM STAGING
To restore your website from an already backed up location to staging, select your site in the section of the site, then click the back-ups tab. A list of your available back-ups will appear, choose which you want to restore as staging.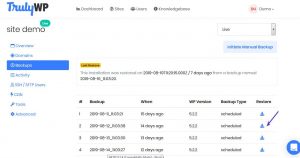 After making a selection, then select the "restore a backup" option next to the back-up you desire to push to staging. This could take a few minutes to stage, depending on how extensive the back-up is. 
Once it is done loading, you can then access your staging site in a completely separate environment from the live production site.